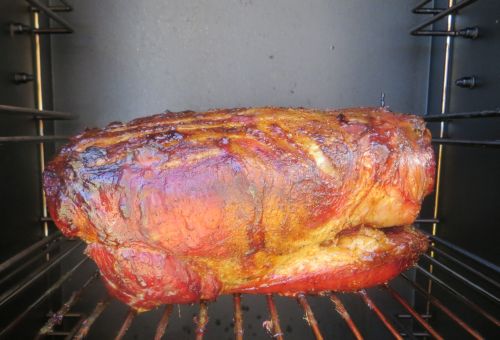 It's time again for some smoked BBQ pork shoulder! Smoking meats is really quite simple, and can easily provide more than a few family-sized meals. We recently smoked a 12 lb pork shoulder for nearly 23 hours at 225 degrees. During that time, I flipped the pork at the half-way point, refilled the water tray, and checked the temperature a few times to make sure it was consistent. This recipe requires a little prep in the beginning, and a little at the end – just like any other legitimate meal. However, the rest of the cooking process should be smooth sailin'. Remember, the key to tender juicy meats is a "low and slow" approach.
Once complete, we have our choice of BBQ sauces:
Joe's Real BBQ – Wonderful BBQ beef brisket, pork ribs, and down-home desserts. Their place is less than a mile a way from our house. You can smell the pecan smoke on windy days.
Honey Bear's BBQ – Best Tennessee BBQ and sauce. Owner of the best specials (catfish, smoked BBQ chicken wings) and best slogan: You don't need no teeth to eat our meat
Or you can make your own BBQ sauce. Currently, they both do it much better than I…But if it's done right, you only need to use the BBQ sauce sparingly anyway.
Smoker Preparations:
Coal/Gas: Heat grill to 225 degrees and add additional coals as needed, or with gas, just set your knob to keep a steady 225 degrees.
Wood: Good pork smoke woods include: Citrus, Apple, Pecan, Walnut, Maple, Hickory, etc…We used Maple this time around.
Fill up the smoker water tray with water.
Cooking Instructions: 
Cut skin and excess fat layer from your pork shoulder. Don't worry about being too precise; you want some fat and the drippings on the meat for flavor.
We use a very simple rub. Note: There's no need to overdo the rub. You'll get plenty of flavor from the smoke, and the basic blend of spices in your rub. Not to mention the BBQ sauce you can add once it's cooked. Ideally, you want to let the rub sit overnight. When tasting the rub, it'll be strong and quite frankly – doesn't taste great by itself. Don't be fooled – all of those flavors will temper during the long slow cooking process.
Rub Instructions:
Mix in a bowl, and rub onto entire surface of meat. Let sit for a few hours at minimum.
2 tsp Salt
2 tsp Black Pepper
1 tsp Cayenne Pepper
1 tsp Paprika
1 tsp Chile Powder
1 shake of garlic powder and onion powder
1/4 cup brown sugar
Cooking Instructions:
With your smoker at 225 degrees and your wood chips smoking generously, place the meat onto the center rack.
Cook for 1 1/2 hours per pound of pork. Note: That equates to 18 hours for our 12 lb pork shoulder, but it took closer to 23 due to temperature variations.
Flip meat and refill water tray at the halfway point.
Check temperature and ensure it's a 190 degrees in the center for a well-done pork roast.
Remove meat and seal in it's own container at room temperature for 45 mins to an hour. Note: Make sure it's sealed so that the moisture that is evaporating condenses back and rejoins with the meat.
Pull apart using forks and shred.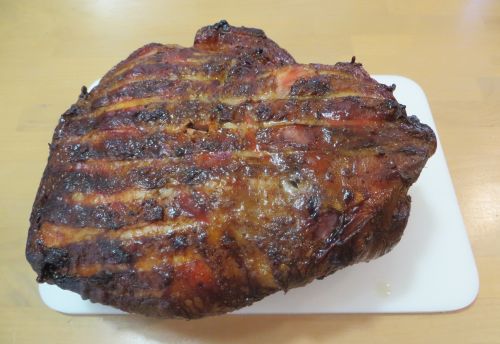 Potato salad is a great side dish to go along with the pork. And, we can talk about making potato salad all day long because that's about how long it really takes to make it (labor intensive). So keep it simple – pick up some potato salad from the deli for a few dollars and you're all set for an awesome smoked BBQ pork shoulder meal.
Here's a quick video clip of the smoked BBQ pork shoulder fully cooked and ready to remove from the smoker. It's "Oh my goodness" good. Hope you enjoy this simple recipe!